THE BEST TOURS IN CANCUN AND RIVIERA MAYA
WE ORGANIZE PRIVATE TOURS FROM CANCUN AND THE RIVIERA MAYA

WE ARE EXPERTS AND LOCALS WHO ORGANIZE PRIVATE TOURS SO THAT YOU
LIVE A GREAT EXPERIENCE.


FORGET ABOUT EXCURSIONS WITH MANY PEOPLE AND CROWDS, OUR SERVICES ARE FOR PRIVATE GROUPS OF UP TO 12 PEOPLE IN COMFORTABLE AND AIR-CONDITIONED VANS. FRIENDLY AND EXPERIENCED GUIDES AND DRIVERS.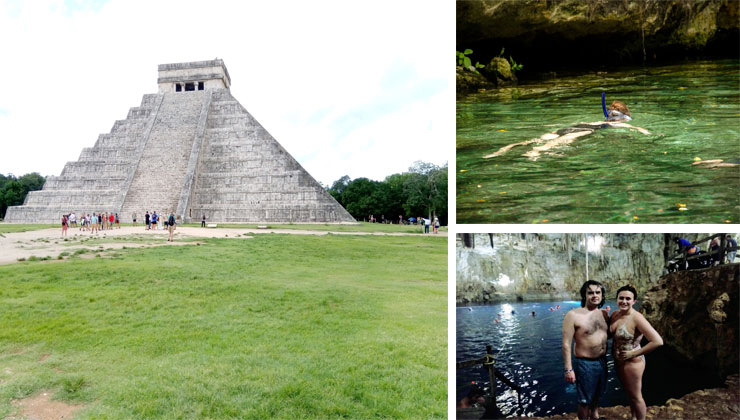 The seventh wonder of the modern world close at hands. We leave any day from your hotel or meeting point. This tour includes: Air-conditioned transportation, entrance fees to the archaeological site, certified guide in Spanish, visit to a cenote to bathe, buffet lunch (drinks not included), a visit to the colonial city of Valladolid, water and soft drinks on board. TOUR DURATION APPROX. 12 HRS.
DAILY DEPARTURES. FROM 7:00 AM to 7:00 PM.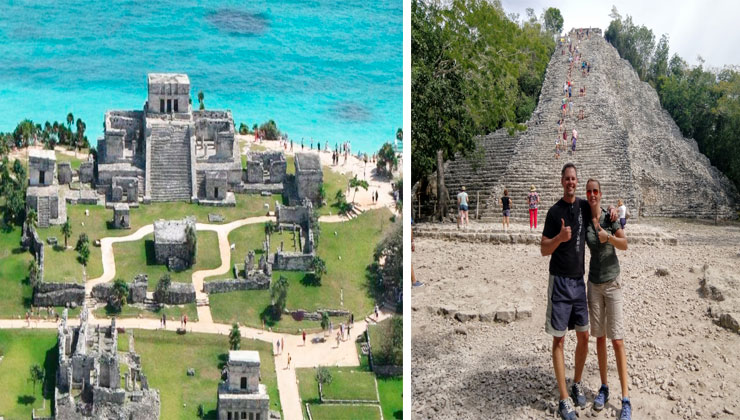 Ideal tour for people interested in archeology and history. First you visit the ruins of Tulum, a site located on a cliff overlooking the Mexican Caribbean Sea, with spectacular views. Then you will visit the other archaeological site of Coba, located in the middle of the Mayan jungle. Includes transportation with A/C, tickets to the ruins, tourist guide, buffet lunch (without drinks), visit to a cenote to bathe. TOUR DURATION 9 HRS APPROX.
DAILY DEPARTURES FROM 8:00 am
One of the most requested excursions is this where we will first know Tulum, this great archaeological site in front of the Caribbean Sea that the Mayan ancestors built and  today is rich in history. It is a 2 hour visit to this archaeological site. Then you can interact with nature swimming with sea turtles on the beautiful beach of Akumal. A unique experience. Includes A/C transportation to Tulum and  Akumal, to swim with the turtles. Does not include food. 6 hours tour.
TOUR DURATION 7 HRS APPROX. DEPARTURES ANY DAY.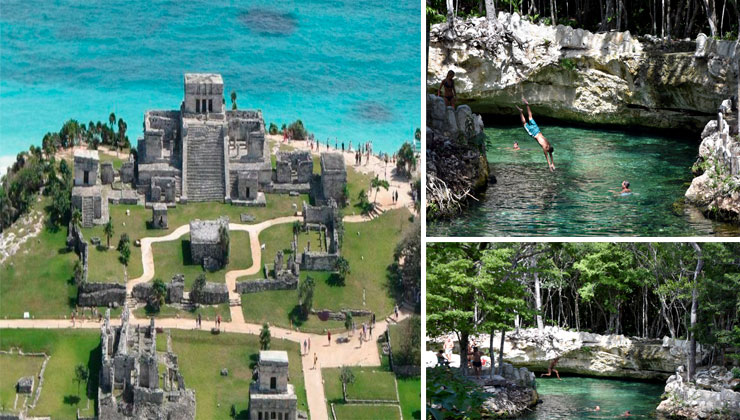 After having visited the wonderful ruins of Tulum, unique in Mexico built overlooking the Mexican Caribbean Sea, A place with pre-Hispanic buildings that today we can admire. Then  you will enjoy a refreshing swim in one cenote of the area with its fresh and crystalline waters. There you will be able to mitigate the strong heat  in the Mayan Riviera and you will also learn about the formation of the cenotes and their importance in pre-Hispanic times and in our time. Includes transportation with air conditioned, tickets to Tulum ruins, certified guide, entrance to the cenote. THE DURATION OF THIS TOUR IS APPROXIMATELY 7 HOURS.  daily departures.
WE HAVE MORE TOURS FOR YOU
Spend 1 day sailing to Isla Mujeres aboard a catamaran. Get to know this beautiful island and enjoy its natural attractions: Snorkel in coral reefs, snorkel in the MUSA sub aquatic museum, visit the center of Isla Mujeres and North Beach, party aboard the catamaran with national drinks and unlimited beers, you will also enjoy a buffet lunch and time for shopping. The tour includes: maritime transportation from Cancun to Isla Mujeres, unlimited drinks, and if time permits, you will do a spinnaker (parachute on board). Daily departures from 9:00 AM. DURATION 8 HRS APPROX. Does not include SEMARNAT tax, or transportation from Riviera Maya or Playa del Carmen.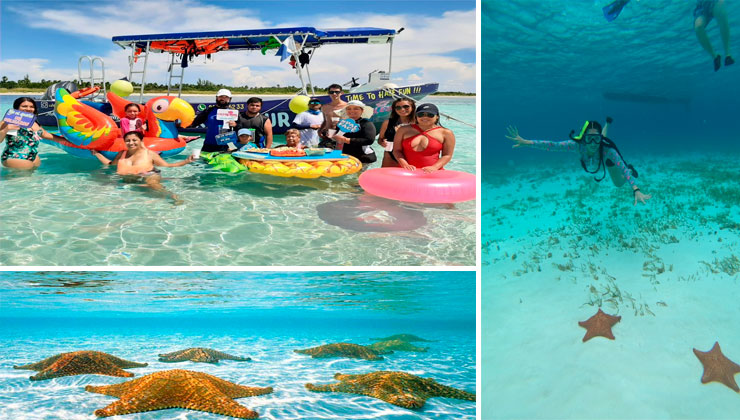 If you visit the island of Cozumel, you should not miss one of the best aquatic tours: "EL CIELO" which is a snorkeling place where you can see many starfish in their natural habitat, a unique experience. This tour is complemented with 3 more activities, snorkeling in 2 coral reefs and enjoying a very shallow area called el cielito. This tour includes: 4-hour boat ride with snorkeling activity in the reefs of Colombia and Palancar Bajo, and snorkeling in the sky and sky, snorkeling equipment, specialized guides DURATION OF THE TOUR 4 HOURS. DAILY DEPARTURES. (Check schedules)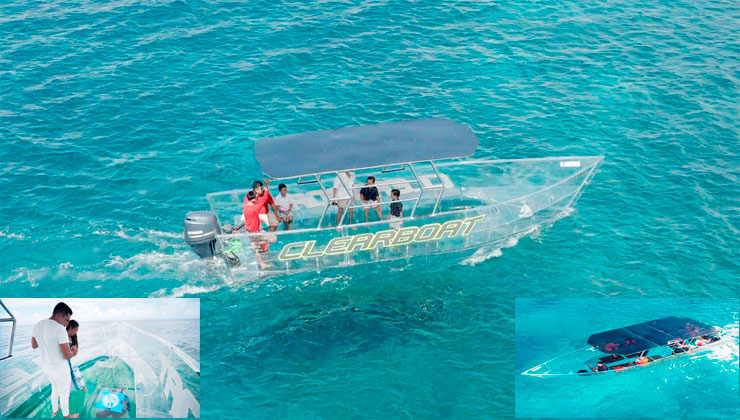 A new way to Enjoy the Island of Cozumel, through tours to see coral reefs and colorful fish in a totally transparent boat. Explore the island's reefs, full of marine life through a 20-minute snorkel guided tour (Snorkeling equipment included), then sail through the area of the sunken ships where you will see from the boat the fish and coral that have formed on said vessels. Enjoy the tour as in a glass bottom boat, but completely transparent. A trip that you will not forget TOUR DURATION 1:40 HRS. DAILY DEPARTURES. (Check schedules)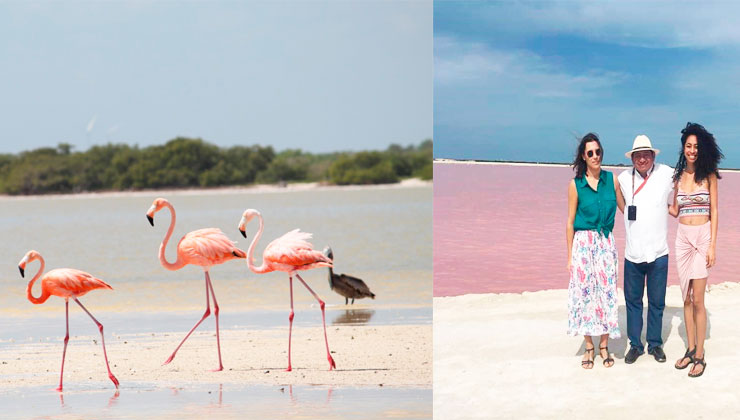 We invite you to know the biosphere of the Rio lagartos reserve. It is a boat ride through the estuary for the observation of seabirds, crocodiles and we visit the nesting area of the pink flamingo. We will also have the opportunity to take a "Mayan Bath", that is to say to spread mud from the vicinity of the saline to exfoliate the skin, which after rinsing the skin is soft, But we also visit "Las Coloradas" which are pools of water pink color that give a very peculiar view and is due to the storage of water in the process of obtaining sea salt. TOUR DURATION 12 HRS APPROX. DEPARTURES TUESDAY AND FRIDAY. 7:00 AM.
Spend a day on a charming island such as "Holbox Island". We start our trip on a boat visiting places such as: Cenote Yalahau, the island of Birds and Passion and later the island of Holbox where we will spend up to 4 hours to know and enjoy this paradisiacal place and where you can bathe in its beaches of sand, rent a bicycle or a golf cart to explore the island, or simply be on the beach enjoying your favorite drink. Includes land and sea transportation, boat ride, food and group driver. TOUR DURATION 12 HRS APPROX. DEPARTURES ANY DAY
We have for you a tour to know Bacalar, known as the lagoon of the 7 colors due to the different colors of blue that can be seen in this lagoon. Take a tour with us visiting the cenotes inside the lagoon, the island of the birds, the pirate channel, among others. This tour includes a 2-hour  boat ride, water and soft drinks on board, food in a restaurant. TOUR DURATION 12 HRS APPROX. DEPARTURES WEDNESDAY AND SUNDAY. FROM 6:00 AM.
Swim with the largest fish on the planet: The whale shark, which is not really a shark, but a fish, but due to its size it is compared to a shark. We invite you to live an adventure swimming with these huge animals. From mid-May to September you can do it in warm waters of the Yucatan peninsula. This tour includes: Maritime transportation in speedboats to the sighting area, snorkeling equipment, specialized guides, waters, soft drinks and beers on board. We leave from "Punta Sam" in the continental zone of Isla Mujeres. TOUR DURATION 5 HRS. DAILY DEPARTURES
DO YOU NEED TRANSPORTATION IN CANCUN OR RIVIERA MAYA?
DE LUXE TOURISTIC TRANSPORTATION
We offer you transportation services to different places in the Riviera Maya, Cancun and Yucatan. Let our operators take you to the most beautiful places in the area, while sitting in your seat you enjoy the scenery and your trip. Get to know places like: Parks and nature reserves, archaeological ruins, cenotes, magical towns, beaches, airport transfers, and more.
RENT OF VANS WITH DRIVER. INCLUDES GASOLINE, DRIVER, TRAVELER INSURANCE. ALL OUR UNITS HAVE AIR CONDITIONING.
YOUR TOUR IS NOT HERE? PLEASE CONTACT US, WE CAN HELP YOU