SWIM NEXT TO THE PLANET BIGGEST FISH: THE WHALE SHARK
Dare to swim with whale sharks, considered the largest fish in the world. Live the adventure and feel nature close to you.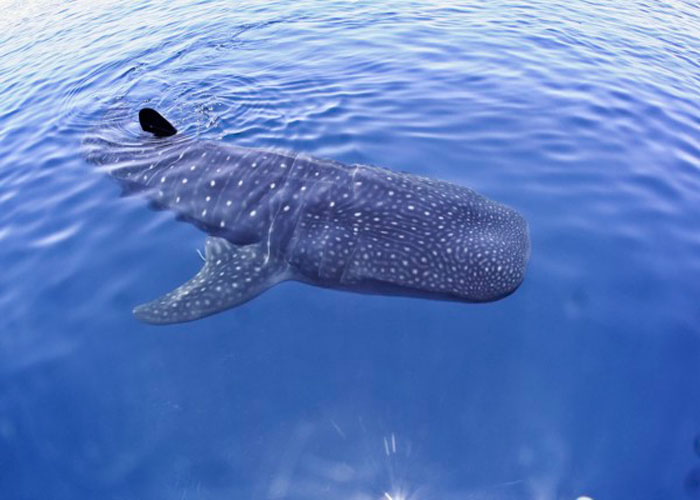 The whale shark whose scientific name is Rhincodon typus is today the biggest fish that exists on the planet, can reach up to 18 meters long. They prefer to live in the warm surface waters or areas where there are outbreaks of nutrient-rich cold water, as these conditions favor the growth of plankton which will feed them. That is why we can see many of these whale sharks in summer off the coast of the Caribbean Sea.
Stains that have been generated various local names like Domino or fish Lady, alluding to the Board game. Each individual has a unique pattern of spots which allows individual identification; it is like your fingerprint as it does not alter the growth. It is possible that they also have a function of social attraction.
 Whale sharks are usually solitary, although it is often seen living with manta rays and other whale sharks.              
The whale shark does not have features in common with whales with the exception of its size and the fact that only eat tiny plankton that picks up with his mouth open. Normally feeds on the surface or slightly below this, filtering small organisms of plankton in the water through their gills.
FRECUENCY: DAILY
DURATION OF TOUR: 5 HRS
TYPE OF TOUR: SNORKEL
TYPE OF TRANSPORT: SPEEDBOATS.
PRICE PER PERSON  $ 150 USD
"OPTIONAL ROUNDTRIP TRANSPORTATION FOR PLAYA DEL CARMEN AND TULUM CLIENTS WITH A COST
FROM PLAYA DEL CARMEN $ 175 USD ROUNDTRIP TRANSPORTATION INCLUDED.
FROM TULUM  $ 190 USD ROUNDTRIP TRANSPORTATION INCLUDED"
THE TOUR INCLUDES:
transport en speedboats to the sight area.
coffee, fruit juice, cheese and ham sandwich.
Snorkel gears, life vest
specialized guides
Bottled water, soft drinks, beers and ceviche
ITINERARY
WHAT TO BRING TO THE TOUR
ITINERARY
At 8: 00 am we get on board our boat in direction to the whale sharks feed area. After 50 min. we arrive to the place where we will see the shark whale and possibly manta rays. Dolphins and sea turtles can see them (80% possibility)
 Arriving at the area of sightseeing, the guide will jump to water with a couple to observe the animal for a period of 5 to 10 minutes, during the tour people can jump 4 times or more. After swimming with the whale sharks, people will be taken to snorkel on the reef. The return to Punta Sam is at 2: 00 pm.
WHAT TO BRING TO THE TOUR