BEST TOURS IN VALLADOLID AND ITS SURROUNDINGS
WE ARE LOCAL EXPERTS ORGANIZING PRIVATE TOURS & UNFORGETTABLE  EXPERIENCES IN VALLADOLID AND ITS SURROUNDINGS
FORGET ABOUT EXCURSIONS WITH MANY PEOPLE AND CROWDS, OUR SERVICES ARE FOR PRIVATE GROUPS OF UP TO 12 PEOPLE IN COMFORTABLE AND AIR-CONDITIONED VANS. FRIENDLY AND EXPERIENCED GUIDES AND DRIVERS.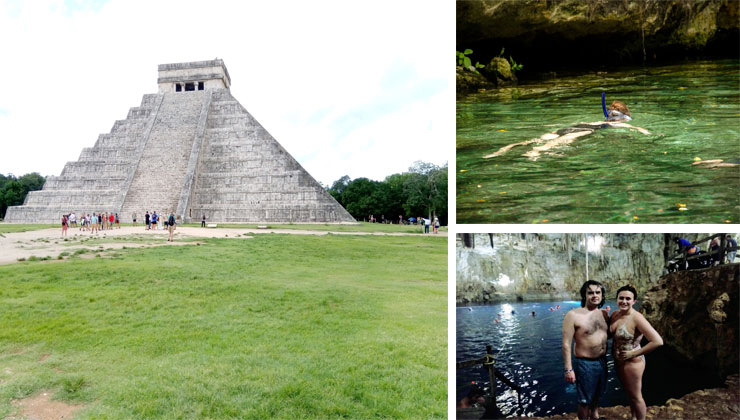 admire the imposing temple of Kukulcán or also known as "The Castle". It is 30 m high and pyramidal in shape on 4 sides. It is on the north facade that the phenomenon of light and shadow is observed during the equinoxes. Also know the temples of the Observatory, the temple of warriors, the great ball game, the temple of the nuns, the cenote of sacrifices and many other monuments of Chichen Itza. A visit that you must make when visiting Yucatan.  
 TOURS INCLUDES: Round trip transport with A/C, Entrance fees to the site, English speaking tourist guide, Lunch buffet (No drinks included), Visit of one "Cenote", bottled water. From 7:30 AM to 4:00 PM.  DAILY DEPARTURES.
A half-day tour to get to know the Mayan ruins of Chichen Itza and take advantage of the morning and get to know this place full of history. Our expert and certified guide will show you the Mayan monuments as well as tell you the history of Mayan culture in general by touring and admiring the temples of Kukulcán or Castillo and other buildings that the ancient Maya built in honor of their gods. Chichen Itza means in Mayan language "In the Mouth of the Well of itzaes" and is one of the archaeological sites that you should know on your visit to Yucatan.TOUR INCLUDES:  Round trip transport with A/C, Entrance fees to the site, licensed snglish speaking tourist guide, bottled water. From 7:30 AM to 12:30 PM. DAILY DEPARTURES.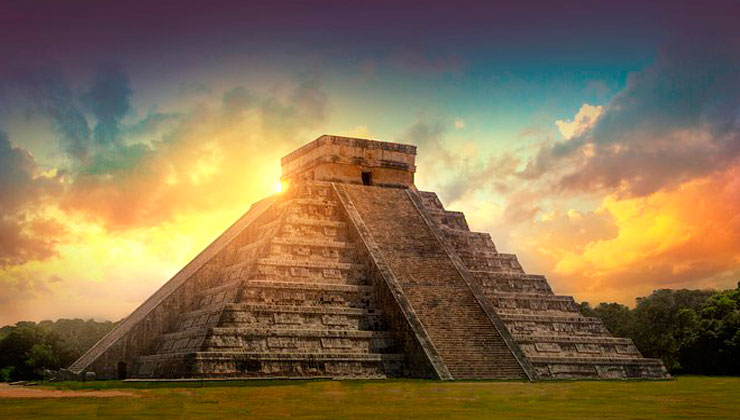 How would you feel about being able to receive the first rays of the sun in Chichen Itza? It will surely be an unforgettable experience. We start from 4:30 in the morning to go on our tour at 5:00 AM and for 3 hours we will explore the site seeing the surroundings of chichen itza come to life, listening to the birdsong and watching the first rays of a new day come to life. This is a tour for those early risers and who want to be in contact with nature, since at this time there are no visitors yet (only you and the group) so the visit at this time is enjoyed to the fullest.TOUR INCLUDES: Round trip transport with A/C, Entrance fees to the site and a guided visit in the ruins. From 4:30 AM to 9:00 AM. This is a very exclusive tour.   DAILY DEPARTURES.
Live an experience knowing and exploring Chichen Itza at night. Tour the illuminated pre-Hispanic buildings, look at the history of the site from another way. Then enjoy the light and sound show on the main pyramid where the history of Chichen Itza and the Mayan culture is narrated.This tour lasts 1:45 min and includes transportation from your hotel and entrance to the event.DAILY DEPARTURES.
Important: This event is subject to weather conditions. can be canceled in case of rain or bad weather
Excellent combination to visit 2 archaeological sites. The Mayan ruins of Chichen Itza and Ek'Balam.Chichen itza was a large pre-Hispanic Mayan city that dominated much of the Yucatan Peninsula in the post-classical period (900 to 1400 AD) and on the other hand Ek'Balam was a Mayan settlement from the late classical period (700 to 900 AD) that developed into a city also powerful and dominant before Chichen Itza. Both pre-Hispanic cities have different architectural styles and Ek 'Balam is one of those that has unique decorations and architecture on the peninsula, with its sculptures of surrounding beings and a plastic representation of the monster of the earth makes this site an interesting visit.THIS TOUR INCLUDES: Round trip transport with A/C, Entrance fees to the sites of Chichen Itzá and Ek Balam, English speaking tourist guide, Lunch buffet (No drinks included), visit of one Cenote. waters and sodas. From 8:00 AM to 5:00 PM. DAILY DEPARTURES.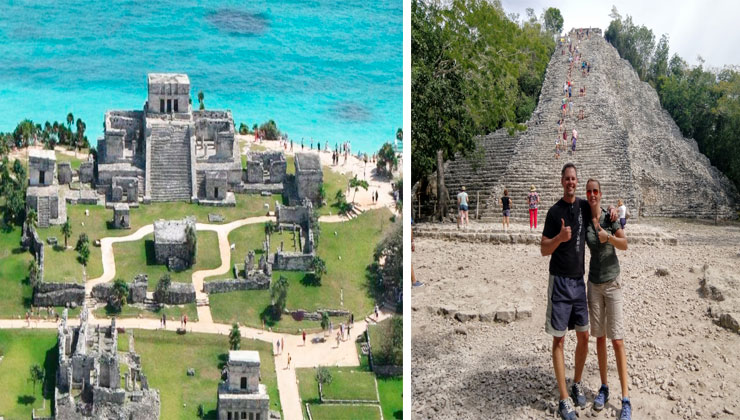 Coba is located in the middle of the Mayan jungle. It's a spectacular archaeological site. It is known that it was a pre-Hispanic city of great importance and power in the classic Mayan period (300 – 900 AD) and it had an area of 70 square km. Today it is a beautiful place surrounded by greenery and where you will find the highest pyramid of the Yucatecan Peninsula (42m.) and you can still climb it.On the other hand Tulum or Samma in Maya meaning sunrise. It was another large pre-Hispanic Mayan city built on the shores of Mexico's Caribbean Sea on a cliff in a truly beautiful natural environment.TOUR INCLUDES: Round trip transport with A/C, entrance fees to the Maya sites of Coba and Tulum, tourist guide, Lunch buffet (No drinks included), water and sodas on board. From 7:00 AM to 6:00 PM.DAILY DEPARTURES.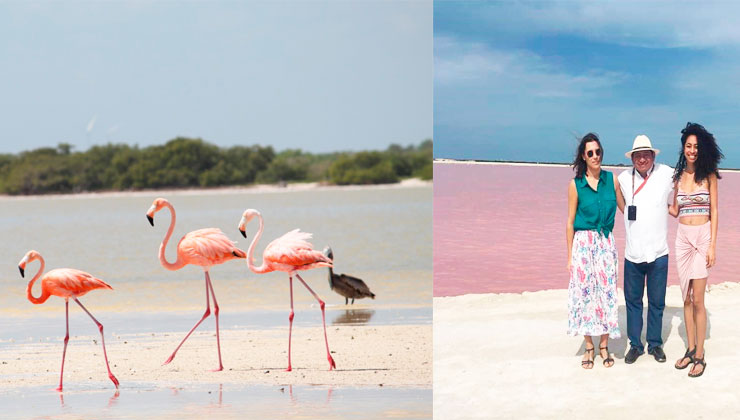 We invite you to know the biosphere of the Rio Lagartos reserve. There we do boat trips through the river for the observation of seabirds, crocodiles and visit the nesting area of the pink flamingo. The route lasts approximately 2 hrs 30 min. where we will know about the mangroves, the different species of migratory and non-migratory birds that live there and we will also have the opportunity to take a "Maya Bath", that is, spread mud from the vicinity of the salt flat to exfoliate the skin, which after rinsing the skin is soft , But we also visit "Las Coloradas" which are pools of water pink that give a very peculiar view and is due to water storages in the process of obtaining sea salt.TOUR INCLUDES: A/C transportation, Boat rides through the river, Visit to the pink waters, Meals (No drinks included), Tourist guide, Bottled water. from 7:30 AM to 6:00 PM. DAILY DEPARTURES.
Spend a day on a charming island like "Holbox Island". We start our boat ride visiting places like: Cenote Yalahau, the island of Birds and passion and then the island of Holbox where we will be up to 4 hours to know and enjoy this paradise place and where you can enjoy of its sandy beaches, rent a bike or a golf cart to tour the island , or just be on the beach enjoying your favorite drink.TOUR INCLUDES: Round trip transport with A/C, 2:30 hrs of boatride, free time on the island, meals (No drinks included), tourist guide, water and sodas. From 7:30 AM to 7:00 PM. DAILY DEPARTURES
Excursion to know 4 different cenotes of the area. In each you will experience its refreshing waters and admire the beauties of its natural formations. Cenotes are true underground rivers that cross the subsoil of the peninsula and in ancient times of the Maya culture were considered sacred places. Today they are beautiful recreational and fun places and thanks to the high temperatures of southeastern Mexico, they invite us to swim in its crystal clear and clean waters.TOURS INCLUDES: Round trip transport with A/C. From 8:00AM to 5:00 PM. DAILY DEPARTURES.
DO YOU NEED TRANSPORTATION SERVICE ?
LUXURY TOURISTIC TRANSPORTATION
We offer you transportation services to the different places in Yucatan, and around Valladolid. Let our operators take you to the most beautiful places in the area, while you sit in your seat and enjoy the landscape and your trip. Get to know places like: Parks and natural reserves, archaeological ruins, cenotes, magical towns, beaches, airport transfers, and more.
VANS RENTAL WITH DRIVER. INCLUDES GASOLINE, DRIVER, TRAVELERS INSURANCE. ALL OUR UNITS HAVE AIR CONDITIONING.
IS NOT YOUR TOUR IN THE LIST? CONTACT US, WE CAN HELP YOU, WE HAVE MORE TOURS AVAILABLE