RIO LAGARTOS & LAS COLORADAS TOUR
PINK FLAMINGOS NESTING AREA
Great excursion to look at the pink waters of the place called "Las Coloradas", with its peculiar pink pools where you can take photos and selfies. You will also enjoy a boat ride through  "Río Lagartos" biosphere of the reserve. Do birdwatch, see pink flamingos and even crocodiles.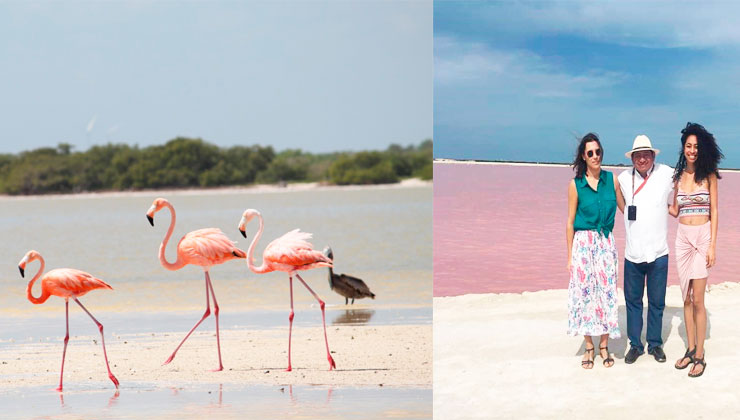 ABOUT COLORADAS AND RIO LAGARTOS. 
"Las Coloradas" are pink water pools that give a very peculiar view and is due to water storage in the process of obtaining sea salt since it is located within a saline property and they are dedicated to obtaining precisely salt by various processes in which water is stored in ponds that become pink waters.
On the other hand, on this tour you  also will get to know the biosphere of the Rio lagartos reserve. There we do boat rides through the estuary to observe sea birds, crocodiles and we visite the pink flamingo nesting area. The tour lasts approximately 2 hrs 30 min. where we we can know about the mangroves, different species of migratory and non-migratory birds that live in that place and we also have the opportunity to take a "Mayan Bath", that is, to spread mud from the vicinity of the saline to exfoliate the skin , that after rinsing the skin is soft.
Daily departure Only private tours
DURATION: 12 HRS APPROXIMATELY
TOUR TYPE: AQUATIC AND LAND
TYPE OF TRANSPORT: VAN AND BOATS
A/C VAN TRANSPORTATION
A GUIDED TOUR THROGH "LAS COLORADAS" VIEWS FROM A MIRADOR.
BOATRIDE TROUGH THE ESTUARY FOR MARINE BIRDWATCHING AND PINK FLAMINGOS; COCODRILES. 
MEALS IN RESTAURANT (NO DRINKS INCLUDED)
CERTIFIED TOURIST GUIDE
WATER AND SODAS
ITINERARY
After picking up you at your hotel or meeting point, we head towards "Las Coloradas" where upon arrival, you enjoy the spectacle of the pink ponds, there, a local guide  gives you an explanation of these ponds and about the process of obtaining the salt, while taking selfies and taking nice photos of the place.
After having visited Las Coloradas, we  take you to "Río Lagartos" where you get aboard a boat and take a tour through the estuary to watch sea birds such as pelicans, herons, cormorants, ospreys and pink flamingos. Also hopefully you will see crocodiles. But you can also do "The Mayan Bath" which consists of smearing mud on your skin, which is a natural way to exfoliate and that at the end of the tour we take you to a beach to rinse off. You will notice that your skin is soft.
After having enjoyed the tour, you will now be ready for a succulent lunch at a local restaurant:  breaded fish fillet, garlic fish fillet, grilled or butter fish fillet, there is also "a la diabla" fish fillet and fried fish, empanadas de cazón, chicken schnitzel, grilled chicken, poc chuc and vegetarian salad. With rice and vegetable garnishes. Drinks are not included.
And finally on the return, we  make a brief stop of 30 min at Valladolid to get know this colonial and historical town with its old and restored buildings, as well as a brief explanation of the town by our specialized guide.
Return to the hotels. End of the tour.
WHAT TO BRING TO THE TOUR
BOOKINGS AND MORE INFO CONTACT US